The Experts of Commercial Collections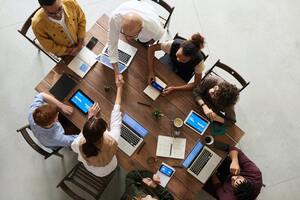 We've worked with a multitude of finance professionals and business owners at AAB over the years. Many people who had not considered a collection agency for their commercial collections listed concerns such as:
"I worked so hard to get the customer. I'm afraid that by using a collection agency, I will lose them."
"Using a collection agency for my commercial collections is too expensive. I'd rather do it myself."
"We have a credit manager and staff to collect our commercial collections. We don't need a collection agency."
"If I can't collect it - nobody can."
"I am the credit manager. If I spend money on a collection agency, I've failed."
Some AAB customers initially felt the same way; however, once they decided to move forward with our collection agency and allowed us to manage their commercial debt collections, they became much more comfortable. When our customers see that AAB's team treats everyone with dignity and respect, the hesitancy is replaced by enthusiasm to work with us to get the money they're owed.
When deciding to use a professional collection agency for your past-due commercial collection accounts, there are many factors to consider. Would it be helpful to know that AAB counts many small, medium, and large businesses as customers? Businesses of every size and degree of sophistication find themselves with outstanding receivables. Companies of virtually every size use professional collectors. We're happy to learn about your hesitations in hiring someone to recover your commercial collections, and happy to provide solutions!
While everyone's ideal scenario is to collect 100% of their money every time, it rarely occurs if you extend credit terms to your customers. Wouldn't it be great if you had a plan in place to deal with the inevitable challenges and work with a partner whose interests are entirely aligned with yours? Those circumstances make working with a professional collection agency much easier.
Why AAB Is Your Best Choice to Achieve Your Collection Goals
Incorporated in 1973, AAB has weathered numerous business, economic, political, employment, and pandemic challenges. We've been with our customers through their brightest and darkest days. While debt collection contributes to the economy's health, we recognize the stigma associated with our industry. That's why AAB is so proud of our Google reviews. Ours are primarily comprised not of customers but of people who have paid their accounts through us.
Reading our reviews, you'll see that we work very hard to make paying a bill or hiring a debt collector a positive experience. At AAB, our mantra remains to treat the individual with respect and dignity at all times - period. Although this article focuses on commercial or B2B collections, it is ultimately about people working with other people to reach a satisfactory outcome. Rest assured, your commercial collections are in good hands with AAB.
Getting started with us is very simple. Let's have a quick chat about your specific situation. We enjoy learning about your business. The more we understand your business, the easier it will be to work successfully with your customers. Call us toll-free at 1-866-448-3936 or click here and fill out the short form. If we look like a suitable match for your business, we'll send you a simple three-page agreement to sign and that's it. We can immediately begin work on your behalf.
It's not uncommon to still have questions. AAB has compiled a compendium of the most common questions clients and prospects have asked us over the years and created an FAQ page. If there remain unanswered questions, we welcome hearing from you.
Commercial Collections Ann Arbor
Are you feeling a little less hesitant about working with AAB to collect from your past-due commercial collection customers? If so, call us today at 1-866-448-3936, send us an email to info@accountadjustment.us, or click the contact us button on our website.