How We Help Small Businesses with Credit Collection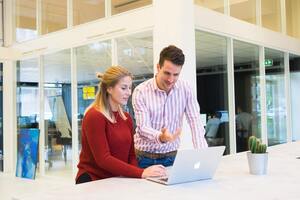 We work with numerous small and medium-sized businesses for their credit collection services in Michigan. When business owners reach out to us, there are typically four questions they want answered to ensure that credit collection services in Michigan or beyond are right for them.
Some questions and concerns include:
"What is your fee?"
"How do you do your work?"
"We've never used a credit collection service in Michigan before and are somewhat nervous about how you treat our customers."
"What is your success rate?"
Almost universally, these are the top questions we get asked, so rest assured you're not alone. Small business owners work their butts off to get customers, and it pains them immensely when they have to engage a credit collection service provider. No one likes to lose a customer, but let's face it, the only good customer is a paying customer.
Would you find it comforting that our conversion rate from prospect to customer exceeds 95%? Once prospective customers contact us with their questions and concerns, 95 out of 100 decide to use our credit collection services in Michigan. We've been providing these services for almost four decades, and we understand your fears and concerns.
Of course, the best outcome for all parties concerned is the successful recovery of the amount owed. Unfortunately, we can never guarantee our results as they are 100% dependent on the solvency of your customers. Credit collection debts become increasingly tricky if creditors wait too long. Other successful outcomes can be confirmation of a write-off or location of assets to satisfy legal action. Engaging a credit collection service provider early in the aging process is best for maximum success.
The Balanced Scorecard Process
At AAB, we have developed a time and market-tested recovery process. We follow our Balanced Scorecard process consistently, enabling us to quickly determine the probability of recovery for dollars outstanding, if litigation is a financially viable option, or if the file is dead and should be written off. Our process is designed to make decisions quickly, usually no more than 90 days from the date you engage our services.
Credit collection services in Michigan can be a highly emotional experience for some creditors, usually resulting in poor subjective decisions. Our process removes the emotion and provides objective feedback so you can make the best business decision.
Engaging our firm for collection credit collection services in Michigan is very easy. We have a basic two-page agreement the creditor needs to sign. This document permits us to act on your behalf. Return the signed document and all backup supporting the debt to be collected, and we will get started immediately.
Trusted Credit Collection Services in Michigan
If you think you might need credit collections services in Michigan, we'd love to hear from you. Contact us here or give us a phone call at 734-448- 3936 to arrange a time to get your questions answered. We will be happy to address your concerns and help you decide if AAB's services are right for your small business.